Next >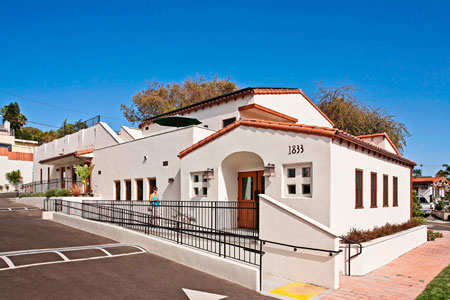 On any given day at the previous San Clemente Veterinary Hospital, you could find a handful of staff members eating their lunch standing up, outside, or sitting in their cars. Inside, other staff members would be jostling for space at the microscope, pharmacy, and refrigerator, while bumping the practice manager and co-owner (two jobs, one person) out of the way—her makeshift office was squeezed onto a counter between these lab functions. All clients and team members shared just one bathroom. Space was tight, to say the least. To make matters worse, the roof leaked, the plumbing backed up weekly, and the electrical demands of the equipment frequently tripped the fuses.

The 50-year-old facility occupied a mere 4,000 square feet of space in San Clemente, Calif. Clients and staff members alike valued the location on the hillside corner of commercial property, with a prime view of the ocean. But what they didn't like was being cramped into tight quarters in an outdated facility.

The co-owners, Dr. John Agostini and his wife, Jennifer Casper-­Agostini, purchased the hospital in 1991. "And while we needed more space and a better floor plan, we didn't want to break tradition with the fact that this hospital has operated at the same site since 1957," says Dr. Agostini. In the end, the owners added just 1,250 square feet to the hospital, but yielded great results in efficiency and style.

The 2012 Veterinary Economics Hospital Design Competition judges awarded San Clemente Veterinary Hospital a Merit award for excellence in design. The hospital's good looks and creative use of space on an existing—and limited—site as well as the use of high-quality materials grabbed the judges' attention.
Larry Falke, Larry Falke Photography
Struggles turned into successes
The Agostinis' building project got off to a bumpy beginning when they hired an architect who had designed a building for their relative. They admired his work and hired him to complete the hospital's shell. As they were remodeling and adding on to an existing building, they had to be careful to design in phases while keeping the practice up and running.

While the architect had no experience with designing veterinary practices, Dr. Agostini says he did an outstanding job developing the site and busting through two city variance proceedings that led to the building permit. The only problem was that the architect didn't consider multiple factors involved with the mechanical, electrical, and medical design systems in a state-of-the-art veterinary facility.

The neighbors were another stumbling block. They were adamant that the building not block their view of the ocean, leaving the Agostinis very little clearance for building up. The initial architect designed with that in mind, but forgot to leave room for mechanical ducting that is common with a veterinary practice.

"This affected our project by initially driving up the costs of technology, but it did increase the efficiency of our heating and cooling systems in the long term," says Jennifer Agostini. "Our happy accident came as a result of what we call 'the glitch.'" Rich Rauh of Rauhaus Freedenfeld and Associates took over for the first architect and installed a new ductless inverter heating and cooling technology.

"We never would have considered this technology if it weren't for the glitch," says Jennifer Agostini. "But as a result, our heating and cooling system is so efficient that we've drastically cut our utility bill."

The practice can close off heating and cooling to areas of the hospital that are not in use. Even better, temperatures can be controlled within each individual space in the veterinary hospital. "We no longer have to freeze ourselves in order to cool the kennels," Jennifer says.

Once the Agostinis turned these negatives into positives, they were well on their way to building the hospital they desperately needed. Plus, they came away with lots of advice for veterinarians about to build or remodel their practice.

"Be prepared to roll up your sleeves and work out the problems that arise during the process of design and construction," Dr. Agostini says. "Don't be afraid to make changes to keep the ship on course."

With such a small footprint to begin with, and little space to add on, the Agostinis had to make every inch of their hospital count. And with their architect's expert help, they did just that.
Every spare inch counts
"Our facility just isn't efficient or convenient" is a familiar refrain with many veterinary practice personnel. But staff members had every reason to complain about lack of convenience at San Clemente Veterinary Hospital, especially when it came to business office issues. The office was in the practice owners' home. Team members had to transport business items back and forth from house to practice. The 50-year-old building just didn't have the available space to accommodate a business office.

"I was previously using a workstation that was sandwiched between the microscope, the pharmacy, and the refrigerator," says Jennifer Agostini. "I had to constantly move out of the way for staff access to these items."

So team members had lots to say when it came time to build the new hospital. And Dr. Agostini was happy to hear their input. The owners asked staff members what specific design elements would make their work environment more pleasant and efficient. As a result, team members enjoy a check-in desk designed just for them, a much-needed break room, and an outdoor eating area. Of course, the practice is proud to feature more than the one bathroom it had previously. And a more efficient hospital floor plan just makes everything easier.

Veterinary clients also had their say in the hospital's design. Their wish list included a light-filled waiting area with comfortable seating, a coffee bar, a water station, and living room-like appeal. Per client wishes, the exam rooms each have a window and comfortable seating as well.

To make the most of a relatively small space, the owners went with an open plan. "Our previous facility was outdated, with a chopped-up flow of patient care," says Jennifer Agostini. "Walls blocked access to natural flow patterns. In the new facility, we went with an open plan that allows us to see patients and communicate with one another easily. The open plan has a distinct flow that's defined by an emphasis on functionality from check in to check out."

And when the Agostinis say they used every inch of space, they aren't kidding. The roof features a large play deck for boarded dogs as well as a separate outdoor break area.

"The whole hospital makes people feel welcome," says Jennifer Agostini. "We spared no expense—and not an inch of space—to get the perfect hospital for our team and our clients. We're happy with the healthy, happy environment we've created for those we work with and for."
San Clemente Veterinary Hospital
1833 S. El Camino Real
San Clemente, CA 92672
(949) 492-5777 • Fax (949) 492-5664
sanclementeveterinaryhospital.com

Owners: Dr. John Agostini and Jennifer Casper-Agostini
Associates: 2 full-time
Hospital team: 12 full-time, 2 part-time
Practice type: 100 percent small animal
Building size: 5,250 square feet
Runs: 6 hospital indoor
Exams: 4
Cages: 56
Parking spaces: 10 client, 7 staff
Construction: $1.2 million (building only, excludes land purchase, landscaping,
parking lot, etc.)
Site improvement: $650,000
Professional fees: $200,000
Equipment: $250,000
Furnishings: $2,500
Computers: $25,000
Year built: 2011

Architects:
Richard Rauh, AIA
Rauhaus Freedenfeld & Associates
23101 Moulton Parkway, #106
Laguna Hills, CA 92653
[email protected]
rfarchitects.com
Builder/general contractor:
Greg Roseen
Roseen Builders, 23011 Moulton Parkway
Laguna Hills, CA
(949) 716-7900


Reception
The Hacienda-style lobby uses a wood ceiling, hanging pendant lights, and a Revival-style rectangular reception station to give the area a living room feel. Custom built-in benches with tear- and puncture-proof fabric coverings offer comfortable yet practical seating for clients.
Exam room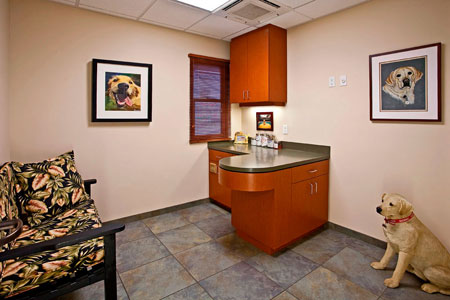 The four exam rooms are arranged within a pod for easy access. Per client wishes, each exam room has a window to the outside for natural light.
Treatment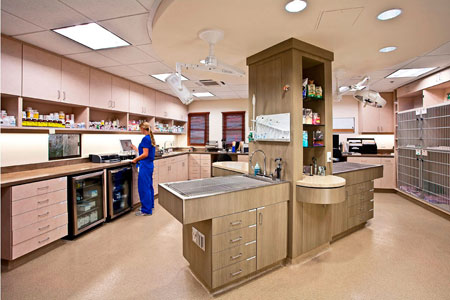 The treatment area features two wet tables and one dry table. A circular dropped ceiling element lends visual interest while housing procedure lighting directly over each table. The treatment area has 14 linear feet of cages with an in-wall oxygen delivery system and vacuum stubs.
Staff patio
The new hospital layout offers staff members an ocean-view patio that features a gas grill, a shade umbrella, and a table and chairs.
Dog deck
This 1,500-square-foot space on the roof is enclosed and features an ocean view, shade, and cushioned seating. The practice also hosts outdoor community functions, such as dog training, social events, and lectures here.