Next >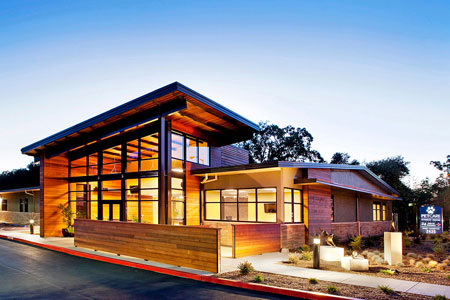 At the molecular level, cells divide instead of growing larger. If cells grew larger, it would take too long for nutrients to travel across them, and the cells would die. To survive, the cells must self-divide.

In a way, that's what the doctors at PetCare Veterinary Hospital in Santa Rosa, Calif., were up against a couple of years ago. This specialty, referral, emergency, and general practice had 100 employees working in 6,000 square feet, with a detached administrative building.

This hybrid practice, as they call it, was in a bind. "We physically couldn't put one more patient in our hospital," says co-owner Dr. Kent Talcott. "The bottlenecks were building up, and we couldn't hire any more doctors. It was becoming progressively more difficult to serve our clients well."

With five years left on their lease on a building that had already been remodeled several times, the team of eight co-owner veterinarians decided, for the health of the practice, that it was time to expand into two buildings. They sought a location that could eventually hold the entire practice, if ever they needed to move to one location. But in the meantime, the team moved their specialty and after-hours services to the new building while leaving two-thirds of the general practice in the original building.

"We really didn't have a choice," says Dr. Talcott. "There was only so much we could do in the old facility, and we were stuck in our lease. This was our best option to continue great patient care and grow our practice."

Obviously, they made the right choice. Since opening May 31, 2011, practice revenue has increased 12 percent, and client numbers are up 25 percent. Plus, the 2012 Veterinary Economics Hospital Design Competition judges awarded PetCare Veterinary Hospital a Merit Award for design excellence.
Photos by Tim Murphy, Foto Imagery Ltd.
Making the move
The doctors knew they were taking a big risk, says Dr. Talcott. "We just didn't have a choice," he says. So after two and a half years of searching, they found an old business college that was being used as a church fellowship hall to convert into an offshoot practice. Just four miles from the original facility, the building gave them the option to move the whole practice there if things didn't pan out and they needed to close one facility. As it is, they transport patients between the two facilities to take advantage of the one 24-hour location.

The new facility is a different shape and requires a different layout. "The shape of the building really dictated our design," says Dr. Talcott. The doctors hired veterinary architects to make the most of the building and say that's the way to go.

For starters, the architects recommended a better street presence. "The old building had virtually no street appeal, and that's the biggest thing this flat-roof, big-box building needed," says Dr. Talcott. "It was a very plain building, and changing out the entrance gave us the biggest bang for our buck."

Cutting out a big section of the front and giving the building an all-glass entry that goes up nearly two stories high serves as a beacon at night for emergency and critical care clients. With lots of natural light and a clear view of the lit-up reception area at night, the new entrance adds a lot of architectural interest to an otherwise plain building. The team also decided to use high-quality materials throughout the practice. Learn why Dr. Talcott says the cost was worth it at dvm360.com/materials.

Both the old and new facilities are connected via technology. All files are accessible from both practices, and the phone systems are linked for easy communication. In fact, the technicians are cross-trained and shuttle between the practices when business is slow at one and busy at another.
Embrace risks
Opening a second facility is a big risk—especially in a bust economy, Dr. Talcott says. "We had to duplicate a lot of expenses, including financing a new building while paying a lease on another," he says. "Personnel costs were our biggest duplicated expense, with no guarantee of an increase in revenue."

When three surgeons were sharing two work stations with six technicians, work efficiency and the ability to increase our caseload was limited. Now there's room to move—and grow. Revenue is up, patient numbers are up, and morale has to be up with more personal space in each facility.

"When it's busy, you don't really feel it because you're not three feet from the next person at all times of the day," says Dr. Talcott. "We're not having to wait on equipment, so the chaos isn't even noticed in the new space."
PetCare Veterinary Hospital
2425 Mendocino Ave.
Santa Rosa, CA 95472
(707) 579-3900
Fax (707) 579-9512
http://www.pcvh.com/

Owners: Drs. Roger Bradley, Gil Robello, Cathy Robello, Kent Talcott, Nicholas Davainis, Grace Davainis, Leslie Angus, Kim Henry
Associates: 17 full time, 4 part time
Hospital team: 74 full time, 3 part time
Practice type: Small animal specialty, referral, and emergency
Building size: 13,500 square feet
Runs: 13 hospital indoor
Exams: 12
Cages: 95
Parking spaces: 31 client and 36 staff
Construction: $2.2 million (building only, excludes land purchase, landscaping,
parking lot, etc.)
Land purchase: $1.1 million
Site improvement: $120,291
Professional fees: $296,712
Equipment: $478,301
Furnishings: $19,384
Computers: $118,325
Year built: 2011

Architects:
Animal Arts
4520 Broadway, Suite E, Boulder, CO 80304
(303) 444-4413 • Fax (303) 444-1759
[email protected]
www.animalarts.biz


Reception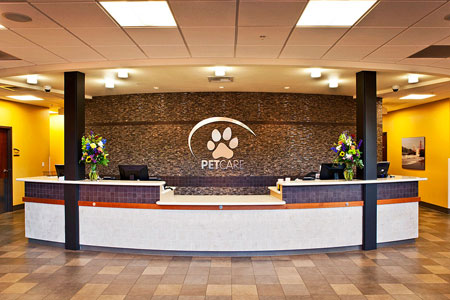 A large tiled backdrop featuring the hospital logo greets clients upon arrival. Half-height cedar walls break up seating areas, giving clients and patients a feeling of privacy.
Exam room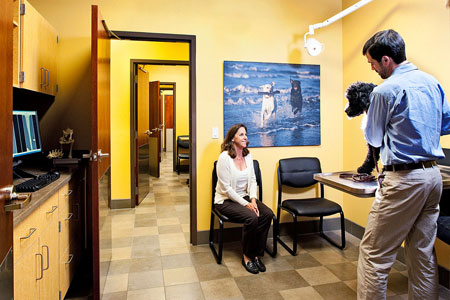 The exam rooms are all a bit different from one another to make the most of each specialty. The larger exam room features a flip-down table and ergonomic counters for standing. Tiled floors, Corian counters, and neutral colors are standard throughout.
Treatment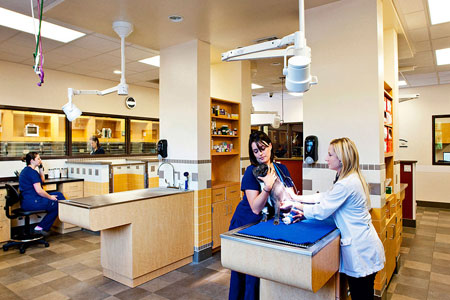 The treatment and ICU spaces are close to the front of the hospital for emergencies and ease of transporting patients. A structural column stood in the way, so the architects created a custom utility chase around it, providing storage, work surfaces, and utilities.
Pharmacy and lab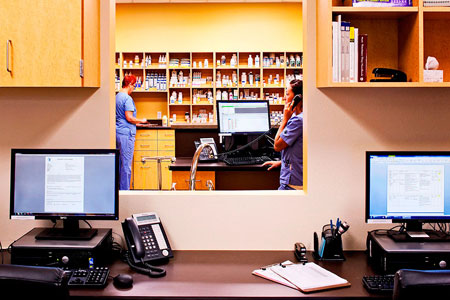 The lab, pharmacy, doctors' station, and break room act as buffers between the front spaces and the medical side of the hospital. They offer plenty of standing-height counters with workstations and a pass-through from the doctors' treatment station.
Wellness suites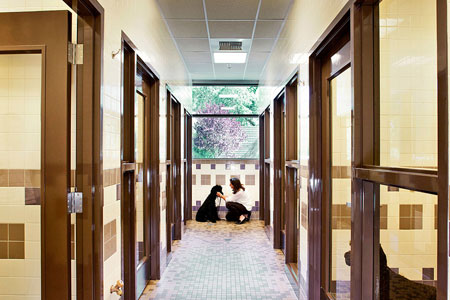 The wellness suites for dogs use glass cages throughout. This approach makes for easier cleaning and disinfecting, thus, healthier patients. "The pets are happier here, as well, with a view of their surroundings," Dr. Talcott says.